When you are ready to buy an air conditioner, should encounter such a problem: choose an inverter or a non-inverter air conditioner?
In fact, both of them have advantages, how to choose one of both depends on which one suits you better.
Let's' give you some knowledge about them.
Differences Between Inverter And Non-inverter Air Conditioner
1. Compressor and control system
Non-inverter air conditioner uses a fixed speed compressor running the whole system to achieve cooling or heating function, the compressor runs at full speed, but stop working when the room temperature drops to the setting level, When the room temperature deviates from 2-3 ℃, the compressor starts up again, so the repeated on and off of compressor will bring more noise and more energy consumption.
Jednakże, Inverter Air Conditioner uses a variable-speed compressor, and added an inverter control system, which can automatically provide the required cold (hot) capacity according to the room situation.
When the room temperature reaches the set level, the compressor of inverter air conditioner runs at a constant low speed to keep the room temperature at the set level all the time.
UWAGA: Inverter air conditioner has 2 electrical boards, one is located at indoor unit, another is at outdoor unit, 2 boards need matching to run the air conditioner normally.
Jednakże, non-inverter AC has only one electrical board, located in indoor unit.
There is a video to show the compressor working difference for non-inverter and inverter air conditioner↓
2. Voltage scope
Normal voltage range of non-inverter air conditioner is 198~242V, but the voltage range of inverter air conditioner is 160~265V. Relatively speaking, the voltage range of inverter air conditioner is wider.
Dlatego, inverter air conditioner has stronger environmental adaptability, pressure resistance, and more stable operation.
3. Cooling time and ambient temperature
Inverter air conditioner operates at maximum power as soon as it turns on so that the room temperature can quickly reach the set temperature.
In the same environment, in order to reach the same set temperature, the running time of inverter air conditioner is 0.5~1 hours shorter than non-inverter air conditioner.
In general, non-inverter AC (klimatyzator) can't run at -7℃, but inverter AC can operate normally at a low temperature of -15℃.
4. Environmental friendliness
Non-inverter air conditioners normally use R22 or R410a refrigerant. R22 has big damage for ozone layers, has been forbidden for many countries; R410a has less damage for ozone layers, but can bring greenhouse effect, so both of them are not the ideal refrigerant. Inverter air conditioner uses R410a previously, but now has new R32/R290 refrigerant, which is no bad for both ozone layer and the greenhouse effect at all, so it becomes the ideal refrigerant for air conditioner.
5. Energy consumption level
There is EER (Energy efficiency ratio) to measure the performance of cooling or heating function. The higher the EER value, the more heat is absorbed by evaporation in the air conditioner operation and the less electricity consumed by the compressor, to jest, the cooling effect is achieved by spending less electricity.
The mathematical expression is: EER= refrigerating capacity / refrigerating power consumption. Unit: W/W or kW/h/W
For air conditioner, non-inverter EER normally is >2.8, inverter EER is >3.2, which means inverter AC is more efficient than non-inverter AC, but the price of inverter AC is higher.
PS: There is another calculation way for SEER=BTU / W (Refrigeration capacity/power consumption), which is normally used in North America and Latin America.
6. Life span
The compressor of non-inverter AC is switched on and off frequently, and the loss is relatively large; while the frequency of the inverter AC compressor can be adjusted, running at a low frequency, is not easy to wear, and has a longer service life.
7. Price range
Inverter AC with the same cooling capacity is about 30% more expensive than that of non-inverter AC, please choose according to your budget and specific needs.
8. Noise level
Non-inverter AC relies on the compressor to start and stop repeatedly to adjust the air-conditioning volume, and the instantaneous noise is louder when starting and stopping.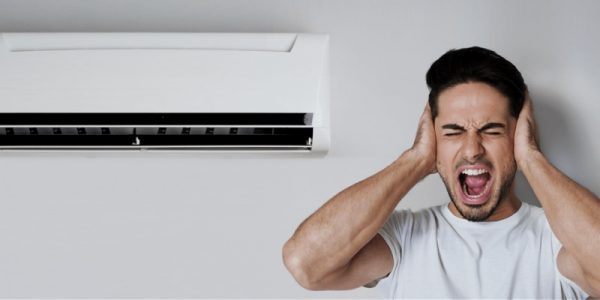 The compressor of inverter AC will not stop, cold volume is controlled by adjusting the frequency of the compressor, which means the adjustment process is linear. Less noise than the start and stop of non-inverter AC.
In this regard, the noise of inverter AC is relatively small.
9. Repair and maintenance
Change the broken part to a new one normally, but must notice for inverter AC: if the electric board and compressor are broken, the replacement price is much more expensive than the non-inverter AC.
10. Cooling speed
Inverter AC operates at high power as soon as it is turned on, so the cooling speed is fast. Ogólnie, the set temperature can be reached within 15~30 minutes.
The non-inverter AC also operates efficiently as soon as it is turned on, but the cooling speed is slow, and when the set temperature is reached, the machine stops running, meanwhile the indoor temperature will rise, which is prone to sudden cold and hot.
Dlatego, in terms of experience, the cooling speed and temperature maintenance effect of inverter AC are better than non-inverter AC.
11. Comfort level
In terms of comfort, I would recommend inverter AC.
The wind speed of non-inverter AC is generally relatively high, and when it starts operation, the wind speed will suddenly increase, which is very easy to cause a cold.
For families with the elderly and children, the stable soft wind setting of the inverter AC is more comfortable and won't make people sick easily.
Comparison Between Inverter and Non-inverter Air Conditioner
Which Size Air Conditioner I Should Choose

?

For your better understanding, please check the sheet below, that is very clear
Room Size

Air Conditioner Capacity

Air Conditioner Type

Air Conditioner Function

8

~12m2

9000btu / 1

hp

Inverter

/

Non-inverter

Cool only

/

Cool

&

Heat

13

~20m2

12000btu / 1.5

hp

Inverter

/

Non-inverter

Cool only

/

Cool

&

Heat

21

~27m2

18000btu / 2

hp

Inverter

/

Non-inverter

Cool only

/

Cool

&

Heat

28

~36m2

24000btu / 3

hp

Inverter

/

Non-inverter

Cool only

/

Cool

&

Heat
Room Size
Can Inverter Air Conditioner Save Power

?

How Much Can Save

?
Tak, of course can save, from EER you can make this conclusion. But how much can save is due to some conditions:
1. Ambient temperature
If the ambient temperature is long-time higher, like Middle East, Afryka, South-east Asia, mniej więcej 4-5 miesiące, every day is more than 35℃, then the inverter air conditioner can save more energy than normal AC, because inverter air conditioner needs to use for a long time every day, more hours use, more energy saving.
2. Running time
Inverter air conditioner will really save electricity for a period time; whether the inverter air conditioner saves electricity or not is related to the utilization time of your air conditioner. If you only run 2-3 hours per day, it is nonsense to use an inverter air conditioner.
Przeciwnie, when inverter AC just turn on and running, if the temperature difference (setting temperature & ambient temperature) is too large, the power consumption is quite large. But if you basically turn on the air conditioner all day, then inverter air conditioner is of course the best choice. Compared with non-inverter AC, it saves electricity by at least 20~30%.
3. Room size
Air conditioner capacity should match the room size. If the room is too large, no matter inverter or non-inverter air conditioner, the cooling performance and energy consumption are both bad.
Wniosek
Both non-inverter and inverter air conditioners are commonly used at home. According to our knowledge above, hope you can read carefully before making the decision and don't make the wrong choice.
So you will choose inverter or non-inverter?
Wszelkie uwagi?
Witamy zostaw wiadomość lub opublikuj ponownie.