Filter has a honeycomb structure, which can be widely used in air filtration and sewage filtration systems.
In the spinning stage, directly mixed the antibacterial agent (DEP) and antifungal agent (TBZ) into the PP resin raw material to make the filter anti-bacterial and anti-mildew effects. Easily clean and replace multiple times, and maintain a long-term filtering effect.
今日, let's learn some knowledge about filters.
Air conditioning Filter
Air-Conditioning filters can be divided into 3 types according to the filtering level, すなわち, primary-efficiency filter, medium-efficiency filter, and high-efficiency filter.
1. Primary-efficiency
This filter is suitable for primary filtration of the air-conditioning system, and used to filter dust particles above 5μm.
Its outer frame materials include: paper frame, aluminum frame, galvanized iron frame.
Filter materials include: non-woven fabric, nylon mesh, activated carbon filter material, metal mesh, 等.
The protective net has double-sided plastic-sprayed wire mesh and double-sided galvanized wire mesh.
The characteristics of primary filter include: low price, 軽量, good versatility, and compact structure. Used for primary filtration of central air conditioning and centralized ventilation systems.
2. Medium-efficiency
This filter is used in central air conditioning and centralized air supply systems. Can be used for the primary filtration of air conditioning system to protect the next-stage filter in the system and the system itself.
In places where air purification and cleanliness are not strict, the air treated by the medium-efficiency filter can be directly sent indoors.
Medium-efficiency air filters used to capture 1-5μm particle dust and various suspended solids. The outer frame material is aluminum alloy and galvanized steel plate, and the filter element material is non-woven fabric.
3. High-efficiency
This filter can capture particles of 0.1-0.5μm. They are used in the microelectronics industry, precision instrumentation, medical and health, biological engineering, 等. Generally used as the air-end of various clean rooms, clean tunnels, and high-efficiency air outlets.
Mostly made of ultra-fine glass fiber filter material, hot melt as the separator, special aluminum profile frame, 等. through strict craftsmanship.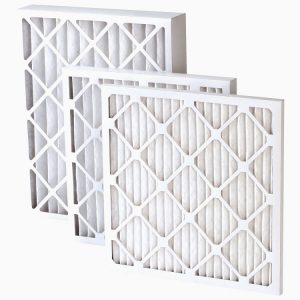 Air-conditioning Filter
Types of Household Air Conditioning Filter
1. Floor-standing air conditioning filter
Floor standing air conditioning filter contains 3 layers: dust removal filter, activated carbon filter, and reinforced filter. We recommended cleaning it every 1-2 月.
2. 壁掛けエアコンフィルター
Wall-mounted air conditioning filter contains 2 layers: dust removal filter and activated carbon filter. We recommended to clean it every 1-2 months as well.
特徴
1. Uses a variety of materials, light in weight, easy to install, and has a beautiful appearance.
2. Super tightness and anti-leakage.
3. Filter surface has undergone a special smoothing treatment.
4. The outer frame and filter material are easy to disassemble and replace, easy to clean and reusable.
5. The filter material is available in aluminum mesh, stainless steel mesh, non-woven fabric, fiber mesh, activated carbon filter, 等.
Wall-mounted Air-conditioning Filter
Types of Car Air Conditioning Filter
がある 3 types of automobile air-conditioning filters:
1. Paper
This filter refers to the filter whose filter layer is made of ordinary filter paper or non-woven fabric. By folding the white filament non-woven fabric to form folds of a certain thickness to achieve air filtration. Since there are no other adsorption or filtering materials, only non-woven fabrics are used to filter the air, so this kind of filter doesn't have a good filtering effect on formaldehyde or PM2.5 particles.
2. Activated carbon
一般的に言えば, the activated carbon filter based on the fiber filter layer to add an activated carbon layer to upgrade single-effect filtration to double-effect filtration.
The fiber filter layer filters impurities such as dust and pollen in the air, meanwhile the activated carbon layer absorbs harmful gases such as formaldehyde to achieve double-effect filtration.
加えて, due to the adsorption characteristics of activated carbon, it also can remove peculiar smell.
3. HEPA
In the past several years, with the severe smog, air purifiers and other "haze prevention tools" have emerged one after another. You may have seen the word "HEPA" on the filter of air purifiers or dehumidifiers.
So what exactly is a HEPA filter?
HEPA is the abbreviation of "High-Efficiency Particulate Air". This means HEPA filter can filtrate 99.97% with a diameter of 0.3 ミクロン (PM0.3).
The HEPA filter has a very strong ability to filter particulate matter, and it is the best filter material in terms of filtering PM2.5. Unfortunately, a single HEPA filter can only serve as a single-effect filter and has a poor filtering effect on harmful gases such as formaldehyde. HEPA has complete air-conditioning filter products, その間, some manufacturers installed HEPA filter membranes on the original car air-conditioning filter, which greatly enhances the efficiency of filtering harmful gases.
HEPA
Where Is the Air Conditioning Filter

?

Air conditioner filter located at the shell baffle of the air conditioner indoor unit. Pry open the buckle around the baffle and lift the shell to see the air conditioner filter.

一般的に言えば, がある 2 air conditioning filters, one is on left another is on right. You can disassemble and clean the filter accordingly.
Air Conditioning Filter Function
Ordinary plastic filter plays a role of dust prevention. A triangular or rectangular filter (called photocatalyst filter), its main function is air purification, sterilization, deodorization, antifouling, 等. Which can be rinsed with water.
As an emerging air purification product, photocatalyst filter has the following functions:
1. Air purification
Purify the harmful organic matter that affects health such as formaldehyde, benzene, ammonia, sulfur dioxide, 一酸化炭素, nitrogen oxides, 等.
2. Sterilization
It has a bactericidal effect on Escherichia coli, Staphylococcus aureus, 等.
While sterilizing, it can also decompose harmful compounds released from dead bacteria.
3. Deodorizing
It has a deodorizing effect on cigarette odor, toilet odor, garbage odor, animal odor, 等.
Air-conditioning Filter
4. Anti-fouling
Prevent oil and dust. It also has a preventive effect on the mold, water rust, yellow alkali, rust of the toilet, and the fading of the painted surface in the bathroom.
How to Install Air Conditioning Filter

?

You can install the filter directly. Can't take out and dry the filter at intervals. When the installation, because there are card slots on the filter, you can put the filter on the left or right randomly, with no any problem.
How to Clean Air Conditioning Filter

?

1. Before cleaning, switch on the cooling mode of air conditioner for 15 分, meanwhile the air conditioner evaporator will produce condensed water.

2. Switch off air conditioner and cut off the power supply to ensure the absolute safety of the cleaning operation.

3. Before disassembling air-conditioning filter, carefully open the indoor unit panel cover. The air-conditioning panel cover is stuck with two small card slots. Just gently pull the outer cover outward, press the recessed parts on both sides of the air conditioner with your hand, then open the air conditioner panel cover.

4. Take off the filter. 初め, push the filter up. After the bottom is out of the slot, gently pull the filter down, then take it out.

5. After removing the filter, some air conditioners have black particles for enhanced filtration, you must move them separately for cleaning and drying.

6. If there is too much dirt or thick dust, you can shake the filter first.

7. Clean with tap water. If there is a lot of dirt, you can also spray the dust filter with air conditioning foam cleaner and wipe it dry with a soft cloth. Be sure not to bend the filter during cleaning! Although it is flexible, the plastic filter can't withstand bending. ついに, put the filter in a ventilated place until it is completely dry.

Air Conditioning Filter Clean
How to Maintain Air Conditioning Filter

?

Clean the filter to prevent dust accumulation from affecting the next use.

If the filter is too dirty, you can wash it with water or neutral detergent, but not with hot water above 50℃ or strong alkali or acidic liquids such as washing powder, gasoline, banana water, 等, in order to avoid deformation.

Don't use too much force when cleaning the panel. For heavier dirt, you can use a neutral detergent diluted with water. First wring out the water in the cloth and then wipe it.

清掃後, wipe the detergent on the cabinet completely.
結論
We introduced the knowledge about all kinds air conditioning filters, used in household, car, commercial or central air conditioner systems, included its installation, removal, cleaning as well, maybe lack of some more knowledge probably, but if you can learn more than other places, let us know please.
コメント?
ようこそメッセージを残すか、再投稿してください.